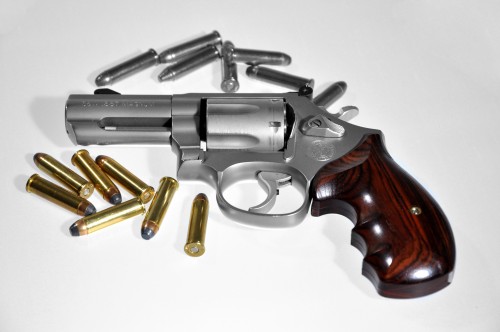 Dear James,
You're probably wondering why there's a picture of a gun above. I'll get to that in just a moment but first let me introduce myself.
My name is Josh and I'm a full-time freelance writer from Battle Ground, WA. A colleague of mine, Carol Tice, emailed me and told me you're looking for a creative writer to join the Renew Magazine team.
So I took a  look at your website and instantly became interested (don't worry, I'll get to the part about why I'm uniquely qualified for this position in a moment).
You see, I wasn't always a successful freelance writer. In fact, 8 years ago I was a hopeless, depressed and suicidal drug addict and alcoholic. At a very low point in my life I even held a loaded gun (like the one shown above) to my head just to "see what it felt like." Obviously I didn't pull the trigger but that was one of the darkest times in my life.
In 2003 I completed an in-patient treatment program at Hazelden Springbrook in Newberg, OR. You may be familiar with them (I noticed an ad of theirs on your site). I then became involved in A.A. and started working the 12 Steps.
I relapsed twice after this but on 5/24/04 I had a spiritual experience that changed my life forever. I've been clean and sober ever since.
(Quick side note: Last week I wrote about my experience on my personal blog and linked to it on Facebook. I received 32 comments and 47 likes.
Here's a screenshot
.)
I won't go into all the details of my journey but I just wanted to let you know why I want to work with you. Yes, I'm a talented writer but what's more important is my passion to see people break free of addiction.
Why Choose Me?
OK, great. You're clean and sober…. But why should we hire you to write for us?
Great question!
There are three primary reasons why it's in your best interest to hire me…
1. Hiring me will simplify your life. I make a point to listen carefully and ask lots of questions BEFORE I start writing. That way I don't interrupt you on a daily basis with unnecessary emails and phone calls.
2. I'm punctual and never miss a deadline. If I tell you I'll have a draft in your inbox by 8:00 a.m. you can count on it being there.
3. You'll have a secret weapon you can use to get into the minds of your readers. As an experienced direct response copywriter I understand how to "join the conversation that's already going on in the reader's mind."
What Others Say About Me
I've reached my threshold of talking about me. So here are a few testimonials from clients followed by links to my work.
"Working with Josh was the best decision we made when developing our new website. After spending about an hour with him on the phone, he got our entire website concept and was able to clearly articulate "our story" precisely how we were looking to do it – the content, the tone of voice, everything. It's as if he was a part of our company and our culture.
We continue to work with Josh on a monthly basis, and the material he has written for us has saved us valuable time, it's helped several of our team members learn more about blogging and social media communication, and it's remained consistent to our message and brand. His work is timely, accurate, and impactful – in short, it's everything we're looking for in a partner."
Mary Fran Mullan
Senior Vice President/Director of Insurance Operations
Lanier Upshaw, Inc.
"I never knew someone who had such a gift for words that sell, than Joshua. The ads and copy he creates are like an artist creating an exceptional painting. He creates the same emotion in his copy that brings a prospect to the point of purchasing the product you offer. The critical difference between what Joshua does and other ads you might have seen, is that his is Direct Responsive. He creates copy that makes a prospect contact you.
I would recommend anyone who wants to take their business to the next level, to contact Joshua and see how he can help your business grow."
Ken Varga
CEO | Creating Customers,LLC
"My first impression on Joshua was someone who personal interest always comes last while the clients interest was his first priority. And as he's referred his own clients to me to provide the best protection for his clients my first impression of Joshua has been my lasting impression. He considers the clients best interests way too important to let any selfish ambition get in the way. I love that, and that why I trust him with any of my friends, family and clients, any time." July 9, 2011
Darren Stroman, Agent | American Family Insurance
My Work
My blog: https://joshuamonen.com/blog
My portfolio: https://joshuamonen.com/portfolio
My LinkedIn Profile: http://www.linkedin.com/in/joshuamonen (you can find my resume on here too)
The Battle Ground Buzz: http://battlegroundbuzz.com/ (I run a hyperlocal media website for my town of 18,000 people. My responsibilities include interviewing local politicians, business owners and celebrities. I also write and edit the majority of the articles on here.  To view the articles I've written on the Buzz click here.)
To Contact Me:
Email: [email protected]
Phone: 360-852-2981
Office Hours: 9-6 PST M-F
Thank you for your time!