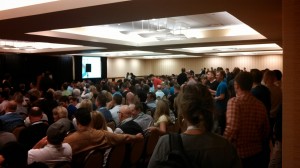 I'm so glad I got to attend #ICON14 (Infusionsoft's big annual conference for small business owners) last week in Phoenix.
After spending three days with 3,000+ small business owners talking about marketing, business and technology I flew home with a renewed sense of hope, passion and purpose for what I do.
But I also walked away with something perhaps more important.
It's more of a feeling in my gut then an idea in my head. And I wish I knew the right word for it.
The closest thing I can think of is something Seth Godin mentioned during his talk:
0 Comments